Welcome to the Women's Ministry
Our purpose in Westwood's Women's Ministry is to enrich the lives of women by teaching them to be grounded in God's word and to be all they can possibly be where God has them. Whether this woman is a student, career woman, mother or a seasoned saint we want to equip her to fall in love with Jesus and allow that love to permeate every area of her life. We do this by offering challenging Bible studies and discipleship classes that give women a time to not only learn God's word, but also allows them to fellowship and meet other women who share the same joys and struggles. Our hope is that as our women face day to day challenges they will be equipped to stand firm in the Lord, have friends to stand with them and be able to tell others about Christ, her hope.
For more information about Women's Ministry please contact Cathy Dunagan at dunaganfamily4@yahoo.com.
UPCOMING WOMEN EVENTS
SPRING RETREAT 2018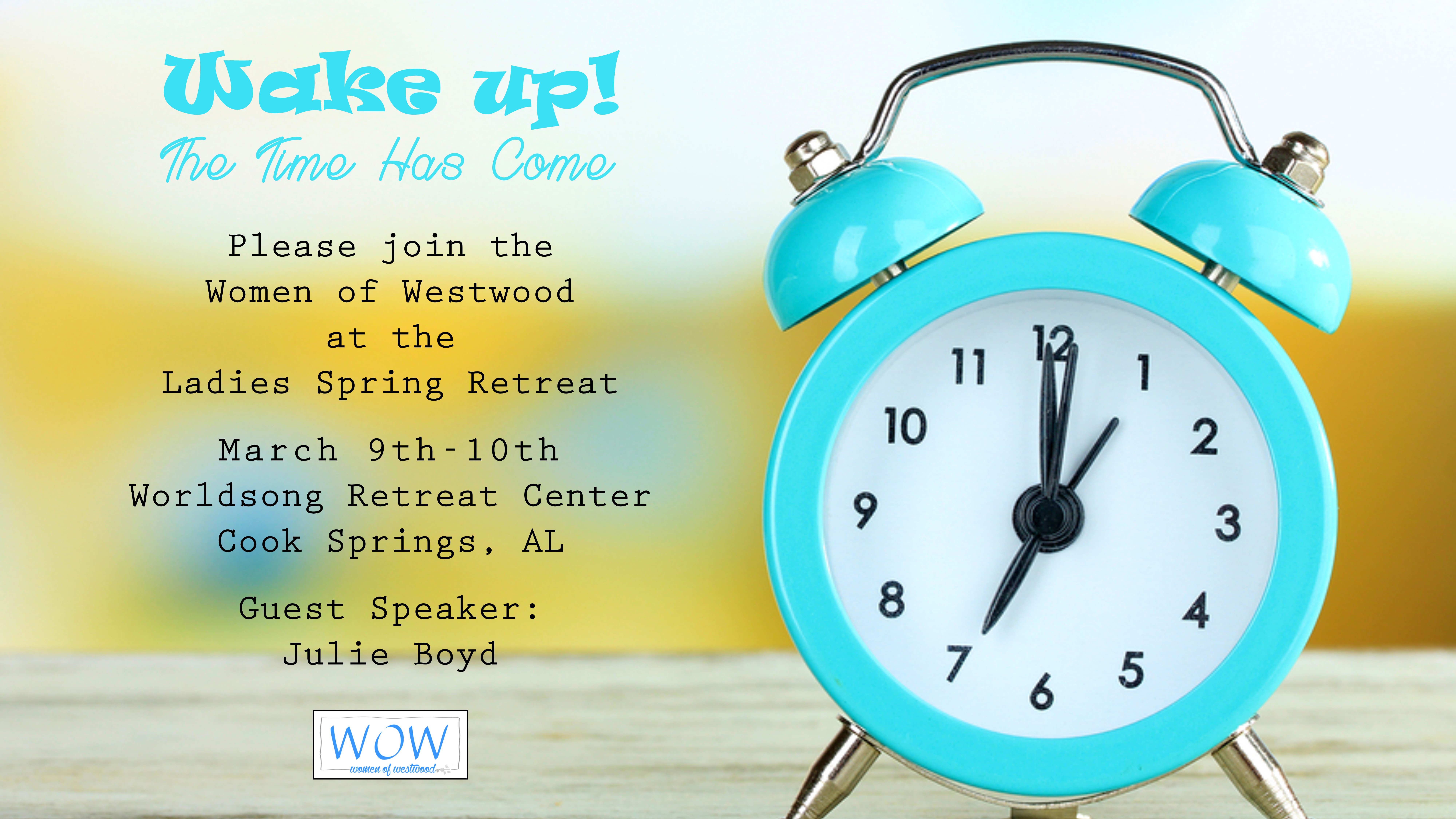 Who: Women of Westwood and Guests
When: Friday March 9, 6:00 pm – Saturday March 10, 2:30 pm
Where: Worldsong Retreat Center, Cook Springs, AL.
Approx. 45 minute drive from Westwood
Website: Alabamawmu.org/camp. See website for directions
Theme: "Wake Up", Romans 13:11
Cost: $70 per person. Includes overnight accommodations, 3 meals, snacks/drinks and logo item. Money is non-refundable unless someone goes in your place.
Speaker/Music: Julie Boyd of Women of Purpose Speak and mother of student pastor Jarred Boyd will be our speaker. Julie is a frequent speaker at women's events. Katie Sandlin who is gifted in singing and playing the piano will lead us in worship. We are honored and excited to have both of these Westwood ladies back with us this year.
Registration: Begins Sunday, January 14 and ends Wednesday, February 7. Register at the Information Center or online. Full payment due at registration. Make checks payable to Westwood. If you have roommate preferences, you can indicate this on your registration form. All rooms have single beds with 2 to 6 beds per room.
Travel: You can travel to the retreat on your own, however if you would like to carpool, we will leave the church parking lot at 4:45 pm on Friday, March 9. Registration will begin at 5pm in the Worldsong Chapel and end at 6:15pm with dinner served at 6:30pm.
Space is limited so sign up early.
For additional information contact Cathy Dunagan, Dedra Arledge or Kimberly Wax
Wake Up – Don't Miss It
WOMEN'S BIBLE STUDIES
Calm My Anxious Heart by Linda Dallow, (starts Wed, Jan. 17, 6:15 pm) SGB Rm 10, Leader Sondra Henley, $10
Jesus the One and Only by Beth Moore, (starts Wed. Jan. 17, 6:15 pm), SGB Rm 15, Leaders Kimberly Wax & Dedra Arledge, $16
2 Peter Precept Study, $20
Wed. Evening, SGB Rm 12, Leaders Kristy Bruce (starts Jan. 17, 6:15 pm)
Sat. Morning, SGB Rm 16, Leader Martha Earwood (starts Jan. 13, 7 am)
Tues. Morning Women's Group, Rm 213, Leader Kristy Bruce (starts Jan. 16, 9:15 am)
Ministry Opportunities